The AU Safe Fish Project hosted African Union Dignitaries on 20th May 2021 to monitor and evaluate the project proceedings in research and implementation.
The meeting held at the Center for Biosecurity and Global Health, COVAB brought together stakeholders of the project who included; African Union (AU) Delegates, researchers, academicians, government agency administrators, and students. Students and researchers under this project also had the opportunity to share their study findings with the delegates; Ms. Monica Ebele Idinobe and Mr. Yayehyirad Kassa.
The Principal Investigator of the Safe Fish Project, Dr. Jesca Nakavuma spearheaded the discussions and shared with delegates the overview of the project. She informed them of the project partners in Ghana, UK, and Uganda. The final beneficiaries were the inland fisheries sector in Uganda and Ghana, fish consumers, fish farmers, and line ministries in fisheries and aquaculture.
Dr. Nakavuma additionally informed delegates that there are challenges in fish farming such as; inability to access quality feeds and seeds, and diseases which arise leading to the overuse of drugs and chemicals, hence resulting in issues of Antimicrobial Resistance (AMR), and yet, these can be addressed by natural enemies of bacteria.
"We engage in some practices to address challenges of diseases, and similarly, there are practices in aquaculture that may influence disease outbreaks, however, the solution by the Safe Fish Project is to use of bacteriophages which are natural enemies of bacteria. These are abundant in nature and they affect only specific bacteria which they are targeted to attack. Fortunately, these also attack drug resistant bacteria and they don't attack animal and plant cells, and so, animals and humans are safe," stated Dr. Nakavuma.
Dr. Nakavuma also affirmed that the mapping of bacterial pathogens of farmed tilapia in Uganda and Ghana, and the development of phage products will improve fish health management, ensure safe fish production, and improved fish farm productivity.
On speaking to Ms. Idinobe, she affirmed that this year, many projects under the AU Grant Program are coming to an end and that there was a need to have an on-ground visit to assess their progress.
"As AU, we have to implement ground visit of the AU grant projects. We decided to at least visit one of the projects at Makerere University this year, the Safe Fish Project in particular to see how it is progressing," said Ms. Idinobe.
She commended AU Safe Fish Project for the worthy progress and affirmed that the monitoring and evaluation is a way of verification to ensure that the money that was allocated to a particular program is used for its intended purpose.
"Also, we needed a direct contact report to know the challenges, if there's any, associated with the implementation of project activities. So far, it has been good and we have interacted with one another and some of the things that have emanated from this meeting will help the team to also improve on their implementation process," she added.
Delegates also had a visit to the National Fisheries Resources Research Institute (NAFIRRI) at Kajjansi to gain more knowledge on upscaling fish health and production. They were received by the head of the Aquatic Research Development Center of NAFIRRI, Dr. Victoria Tibenda Namulawa. The team was later taken through the various facilities at this institution by Ms. Catherine Agoe.
Makerere University is one of the beneficiary institutions of the African Union Grant programs. This was a 2018 call, and Safe Fish is in its third year to finalize the activities.
The Safe Fish project is a European Commission- African Union Commission funded project which aims to develop bacteriophage cocktails as fish disease bio-control agents for improved aquaculture productivity among tilapia farmers, and for economic and social development by addressing food and nutrition safety in Ghana and Uganda.
PICTORIAL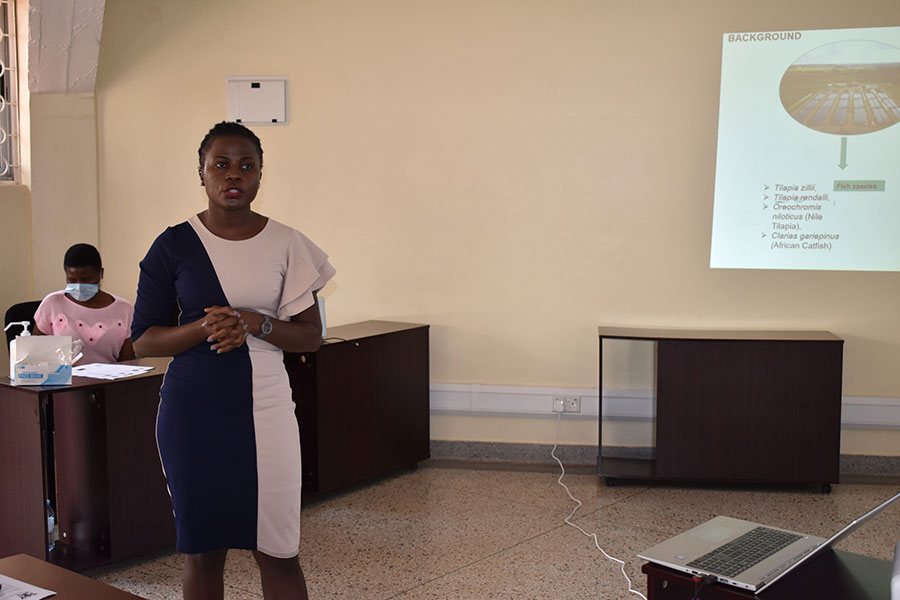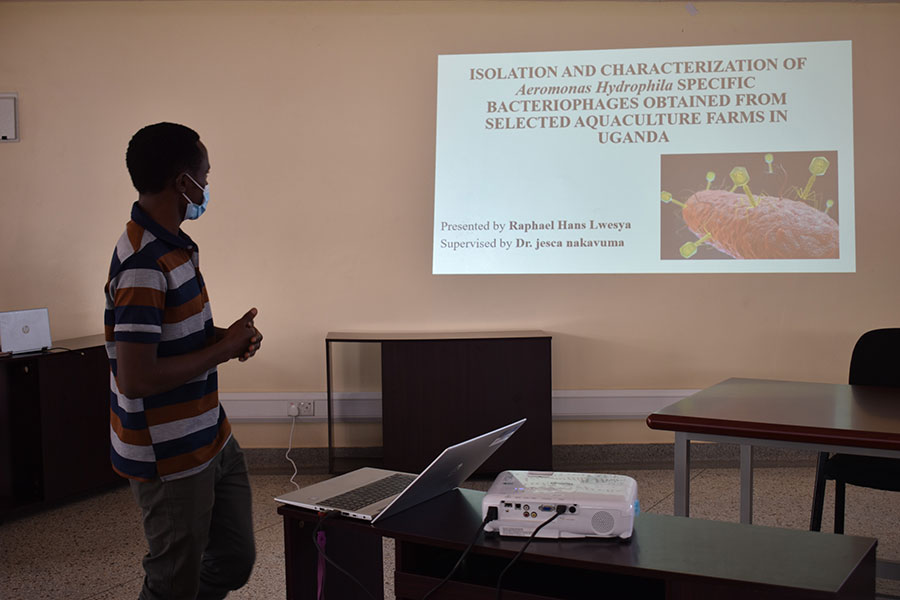 Some of the students under the project presenting their research work.
Credit: Repost with slight changes from COVAB makerere university